Online Workshop on Thai UHC Journey

Online Workshop on Thai UHC Journey
How Thailand Achieved Good Health at Low Cost?
October 25-29, 2021, Via Zoom Program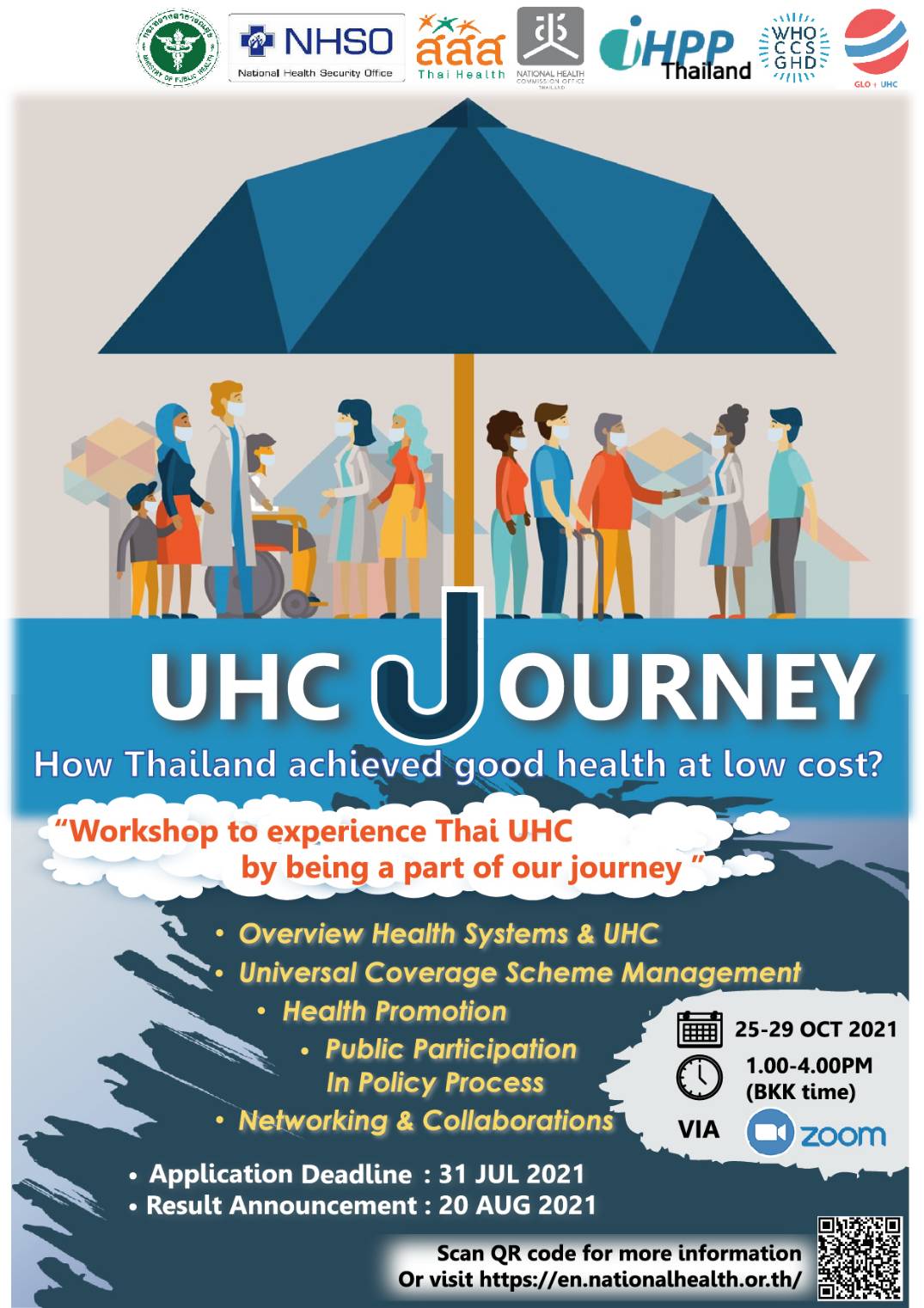 Are you involved or interested to promoting Universal Health Coverage (UHC) in your country?
Do you want to learn from the experiences and best practices of other countries in developing UHC?
We are pleased to inform you that Thai UHC Alliance partner, consisting of the Ministry of Public Health (MoPH), the National Health Security Office (NHSO), the National Health Commission Office (NHCO) Thailand, the Thai Health Promotion Foundation (ThaiHealth) in cooperation with the International Health Policy Program (IHPP) ,WHO Country Cooperation Strategy on Global Health Development (WHO: CCS GHD) and Thailand Japan Partnership Project for Global Health and Universal Health Coverage (GLO UHC) will organize a training workshop to share experience of Thai Universal Health Coverage under the training workshop "UHC Journey : How Thailand Achieved Good Health at Low Cost? (Thai UHC Journey)".
The workshop aims at building capacity of countries with high political commitment to achieving UHC and to share Thailand's experience to real actions based on their context. Ultimately, the workshop also promotes South-South technical collaborations.
Due to the current pandemic, we are moving the workshop program to online platform.
Application Form click here
Note:
1. The application is opened until July 31, 2021
2. Application results will be notified through email by August 20, 2021
Concept Note & Program click here
For more information or questions, please contact Thai UHC Alliance Team : ThaiUHCjourney@gmail.com


Brochure of UHC Journey course (Click here to download all)